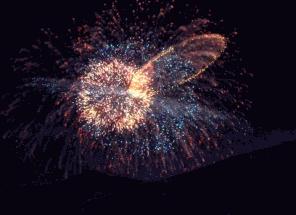 If there's one benefit of living in the middle of nowhere, it's that you can watch the fireworks from every window of the house, and that's exactly what I did last night until the countdown started and we congregated in the living room to debate whether 2017 will be any worse than 2016.
Have any of you made your New Years's Resolutions yet, or are you recovering from last night's festivities?
I think the only two I'll have any chance of sticking with are making time to write every day, even if it's just for ten minutes, and reading more. I used to be able to finish a book in 2 days but now it takes me a week, or longer if I can't find the motivation to pick it up.
Good luck with your resolutions, and here's hoping that this year will be less of a disaster movie than the last one.
Firework gif courtesy of giphy